Egg Free

Corn Free

Gluten Free

No Artifical Sweetners

Dairy Free

Soy Protein Free
Zen Sleep is a formulation of botanicals, nutrients, and neurotransmitter precursors that will naturally support your body's ability to fall asleep faster and stay asleep longer. By naturally soothing stress and calming your brain activity, Zen Sleep will allow you to achieve restful sleep without the grogginess that comes from artificial sleep aids. With melatonin, L-theanine, gamma-aminobutyric acid, and more, this supplement is perfect for individuals who struggle to achieve consistent healthy sleep patterns.
Effective, Natural, Science-Based Solutions for Your Health
In a world filled with products touting health benefits, it can be hard to distinguish what is real and what is not. That's why I wanted to provide you with supplements that you can be confident using to fuel your and your family's bodies. Each product I offer is created with only the highest quality ingredients in forms that are easily put to use by your body. Every ingredient has been tested for effectiveness and bioavailability to ensure that you are only getting the best of the best!
3-Stage Testing that EXCEEDS Industry Standards
When I decided to embark on this journey of supplying you with the BEST supplements possible, I knew I needed to partner with a manufacturer that shared my beliefs in going above and beyond to ensure quality. You can be confident that your product has been tested…
1. Before production (to make sure the raw materials are of the highest quality)
2. During manufacturing (to make sure the product is not compromised in any way)
3. After packaging (to make sure what gets into your hands is pure and free of any contamination)
This goes above and beyond the industry standards, but I wouldn't have it any other way!
Powerful Community
When you buy grocery store supplements, you pick up your bottle, hope it is what it says it is, and go on with your life. When you partner with me through purchasing Essentially Whole supplements, you aren't left to fend for yourself. I am committed to continuing to provide you with resources and solutions to help you achieve your health goals!
What It All Comes Down To…
These products WORK. I use them myself each and every day, and I share them with my friends, family, and -- most importantly -- with YOU. I don't want you compromising your health with second-rate supplements. That's why I have decided to put the power back in your hands with Essentially Whole products. You can be confident you are only getting the best of the best to enable you to heal your body naturally!
Shipping
Shipping Locations
We are able to ship to all 50 states in the US. If you live in a US Territory and we do not ship to your location, please email help@drmariza.com and we will let you know if we can add your shipping region.
Shipping Costs
* Shipping within the lower 48 states is free for all orders over $97 (after discounts are applied). Orders less than $97 will include a flat shipping rate of $9.95.
Shipping to Hawaii or Alaska is free for all orders over $127 (after discounts are applied). Orders less than $127 will include a flat shipping rate of $14.95.
Shipping Speed
All orders will ship within one business day.* You will receive automatic email updates toinform you of the status. When your package ships, you will receive a shipping confirmation email that includes your tracking number.
*In the very rare case that the item you ordered is backordered, you will be notified right away about any potential delays.
Customer Reviews
02/01/2021
Susan D.

United States
New Hormone Balancing Routine
I have been taking the Vitamin D, Adrenal Love, Balancing Hormone and Zen Sleep for close to 3 months now. When I started my hot flashes, night sweats, fatigue, couldn't focus and lack of sleep was grueling to say the least. My thyroid and cholesterol were elevated. My cravings for sugar, mostly dark chocolate, where off the hook as well. I tried everything to alter my lifestyle to try and help myself out. I work out 4 to 5 times a week, I eat a very holistic diet, I don't drink alcohol, smoke or do any kinds of drugs. Yet, here I was miserable. I can enthusiastically say that I haven't had any hot flashes or night sweats in well over 2 months, my fatigue is non-existent which means my work outs are so much more effective. The sugar cravings are gone and my sleeping has changed dramatically. I have to wait another month before I can go get retested for my thyroid and cholesterol, but I am very hopeful that those are going in a positive direction as well. I can't say enough about how much I love these products. Thank you so much!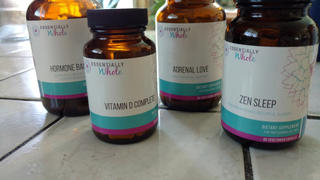 01/20/2021
Anonymous

United States
5 Stars for Zen Sleep
I started taking Zen Sleep when I did the 14 Day Detox the beginning of December. My night sweats completely stopped and red blotches on my neck that came and went for about a year disappeared. I felt so good during and after the balancing hormone detox that I'm currently doing it again and taking the Zen Sleep before bed. I also take the Adrenal Love, Magnesium Restore, Hormone Balance, and Liver Support Blend supplements. I will continue to take the supplements even after the detox because I like how I feel and do not want the night sweats to come back. I recommend this natural way of combating the negative effects of menopause.
10/10/2020
Joanne T.

United States
Zen Sleep Capsules
I take 2 capsules and 1 Magnesium capsule before bed. Read about 30min and fall asleep easily. My issue is I don't stay asleep I wake up around 3:00am and it is difficult getting back to sleep. Any Suggestions? Thank you JoanneT.
09/16/2020
Sabrina B.

United States
Zen sleep
This is amazing! Taking one capsule along with Magnesium restore...sleep is better and continuous! I feel asleep without all the thoughts running through my mind and slept until my alarm went off!
09/11/2020
Lori W.

United States
Zen Sleep Delivers
This natural sleep aid is just what I needed. It helps me relax and fall asleep for sure. I take one at bedtime and another about four hours later when I waken to use the restroom. Thank you for putting a natural sleep aid together. I love it!