Egg Free

Corn Free

Gluten Free

No Artifical Sweetners

Dairy Free

Soy Protein Free
*Notice: Due to high demand, delivery times for Magnesium Restore may be delayed up to two weeks. Thank you for your understanding!*
Magnesium Restore is formulated with the ideal variation of elemental magnesium in order to provide the most absorbable form to your body. Since magnesium is necessary for hundreds of your body's processes and a majority of Americans are deficient, Magnesium Restore will gently lead your body back into its proper balance. Due to its processing with glycine molecules, Magnesium Restore will not cause gastrointestinal upset that often comes with other forms of magnesium supplementation. Each capsule provides 150 mg of elemental magnesium to boost your body's function naturally.
Effective, Natural, Science-Based Solutions for Your Health
In a world filled with products touting health benefits, it can be hard to distinguish what is real and what is not. That's why I wanted to provide you with supplements that you can be confident using to fuel your and your family's bodies. Each product I offer is created with only the highest quality ingredients in forms that are easily put to use by your body. Every ingredient has been tested for effectiveness and bioavailability to ensure that you are only getting the best of the best!
3-Stage Testing that EXCEEDS Industry Standards
When I decided to embark on this journey of supplying you with the BEST supplements possible, I knew I needed to partner with a manufacturer that shared my beliefs in going above and beyond to ensure quality. You can be confident that your product has been tested…
1. Before production (to make sure the raw materials are of the highest quality)
2. During manufacturing (to make sure the product is not compromised in any way)
3. After packaging (to make sure what gets into your hands is pure and free of any contamination)
This goes above and beyond the industry standards, but I wouldn't have it any other way!
Powerful Community
When you buy grocery store supplements, you pick up your bottle, hope it is what it says it is, and go on with your life. When you partner with me through purchasing Essentially Whole supplements, you aren't left to fend for yourself. I am committed to continuing to provide you with resources and solutions to help you achieve your health goals!
What It All Comes Down To…
These products WORK. I use them myself each and every day, and I share them with my friends, family, and -- most importantly -- with YOU. I don't want you compromising your health with second-rate supplements. That's why I have decided to put the power back in your hands with Essentially Whole products. You can be confident you are only getting the best of the best to enable you to heal your body naturally!
Shipping
Shipping Locations
We are able to ship to all 50 states in the US. If you live in a US Territory and we do not ship to your location, please email help@drmariza.com and we will let you know if we can add your shipping region.
Shipping Costs
* Shipping within the lower 48 states is free for all orders over $97 (after discounts are applied). Orders less than $97 will include a flat shipping rate of $9.95.
Shipping to Hawaii or Alaska is free for all orders over $127 (after discounts are applied). Orders less than $127 will include a flat shipping rate of $14.95.
Shipping Speed
All orders will ship within one business day.* You will receive automatic email updates toinform you of the status. When your package ships, you will receive a shipping confirmation email that includes your tracking number.
*In the very rare case that the item you ordered is backordered, you will be notified right away about any potential delays.
Customer Reviews
12/02/2020
Anonymous
United States
Love it
So far I feel so much better then I was. Before I started taking them. I wanted to cruel out of my own skin. My hormones where out of wack. Everything I read brought me back to my Magnesium levels. Then I listen to your podcast and I knew that Magnesium restore is what I needed. Thanks
11/23/2020
Jeanne W.
United States
Energy in a bottle
Just had to come back for another bottle. My afternoon energy level is still great! Thank you for a wonderful product!
11/21/2020
Anonymous
United States
Best Supplements I Have Found
After listening to Dr. Mariza's podcast, I learned how important magnesium is for my health. Dr. Mariza has formulated a magnesium supplement named Magnesium Restore with bioavailable magnesium that is easily absorbed to increase magnesium levels quickly.
11/14/2020
Michelle W.
United States
Magnesium Restore
Helped with sleep, fatigue and brain fog. Doing much better now that I have been on the Magnesium restore for a few months.
10/28/2020
Anonymous
United States
Best labs ever!!!
I switched over all my vitamins to Essentially you. I've gotten 2 auto ships, this week, I had a lab to check to see where my vitamin D and B-12 were. This is the first time I've had great results and absorption! I'm pleased with these supplements and thankful I found them.
09/29/2020
Colby C.
United States
Love this product!
I have suffered with IBS and digestive issues most of my life. I have tried taking magnesium before but never stuck with it because I either didn't notice any difference, or it gave me loose bowels and a lot of discomfort. This product has worked so well for me I am now on my second bottle. I do have to say that I had to start with 1 pill a day at first for about a week, and then once I tolerated that well I went up to 2. It has controlled the constipation, diarrhea, and bloating that made used to make me suffer so much everyday. My lower abdomen used to be tender and sore all the time and now it feels normal. Best magnesium I've ever tried!
09/26/2020
Jeanne W.
United States
New Found Energy
I started using the Magnesium Restore a week or so ago. I am so pleased that I have more energy in the afternoon now. Thank you!
09/26/2020
Karen H.
United States
Excellent product!!
I have been using for over a month and am very happy. There is a small amount of magnesium in the vitamins that I take but I like to make sure that I am an optimum levels as I have a lot of stress in my life and very little time for sunshine and exercise and do not often behave on my green leafy veggies. The capsules are easy to transport and take. Used before bed I find I sleep MUCH better.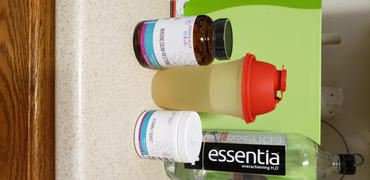 09/22/2020
Rita G.
United States
Love this Supplement
I have felt a significantly better using Magnesium Restore and the Hormone Balance. I recommend these!
08/11/2020
Julianne C.
United States
So Helpful
My sleep is so much better.