Egg Free

Corn Free

Gluten Free

No Artifical Sweetners

Dairy Free

Soy Protein Free
Metabolic Restore contains an ideal blend of ingredients to elevate your health beyond your typical multivitamin. With insulin- and blood sugar-stabilizing ingredients, Metabolic Restore will kickstart your metabolism while enhancing the way your body responds to insulin.
Insulin resistance is an underlying root cause to so many issues we face, especially over age 40. Things like pelvic floor dysfunction, hot flashes, stubborn belly fat, and severe PMS (among others) all are made worse by fluctuating insulin levels.
Metabolic Restore is the easy way to give your body key nutrients that are easy to absorb and deliver what your body needs to restore optimal metabolism so you can lose weight and get relief from your biggest symptoms!
Get Metabolic Restore today and…
Take your health beyond what your typical multivitamin can offer so you can actually feel better (instead of just maintaining base levels of key nutrients)

Improve your insulin sensitivity to allow your body to come back into balance

Restore stability to your blood sugar levels to prevent spikes and dips that leave you exhausted and imbalanced

Support healthy inflammatory responses, immunity, and more with key antioxidants

Get key nutrients in forms that are easy for your body to absorb (even if your gut isn't in peak condition)
I've been right where you are…
My hormones were threatening to derail my health, my family and my career, and I was desperate for a natural solution. Through each healing transformation I've experienced in my life, supplements have been an essential part of my protocols. Nutrition, self-care, and supplements have always gone hand-in-hand in my approach to healing your hormones and body.
And now? I've sourced the perfect supplements for your hormones and put them in one place so you can get your hormones and body on track as well.
Supplements have a special power that you can't get from other healing strategies. With concentrated, bioavailable nutrients, vitamins, minerals, and adaptogenic herbs, supplements offer a unique benefit to your body in a simple, convenient package.
Unfortunately, in my research of other supplements and brands, so much of what I found was people cutting corners and not offering the best products possible. That's why I decided to launch my own line of Essentially Whole supplements. I've worked closely with my manufacturer to be confident you are getting the best possible supplements of the highest quality to make the biggest impact on your health.
Whether your hormonal challenges have to do with stress, weight, metabolic or reproductive hormones, the supplements you'll find in the Essentially Whole store were designed to work with your body's natural processes, enhancing them for optimal performance.
Here are a few things that make Essentially Whole Supplements special:
Effective, Natural, Science-Based Solutions for Your Health
In a world filled with products touting health benefits, it can be hard to distinguish what is real and what is not. That's why I wanted to provide you with supplements that you can be confident using to fuel your and your family's bodies. Each product I offer is created with only the highest quality ingredients in forms that are easily put to use by your body. Every ingredient has been tested for effectiveness and bioavailability to ensure that you are only getting the best of the best!
3-Stage Testing that EXCEEDS Industry Standards
When I decided to embark on this journey of supplying you with the BEST supplements possible, I knew I needed to partner with a manufacturer that shared my beliefs in going above and beyond to ensure quality. You can be confident that your product has been tested…
1. Before production (to make sure the raw materials are of the highest quality)
2. During manufacturing (to make sure the product is not compromised in any way)
3. After packaging (to make sure what gets into your hands is pure and free of any contamination)
This goes above and beyond the industry standards, but I wouldn't have it any other way!
Powerful Community
When you buy grocery store supplements, you pick up your bottle, hope it is what it says it is, and go on with your life. When you partner with me through purchasing Essentially Whole supplements, you aren't left to fend for yourself. I am committed to continuing to provide you with resources and solutions to help you achieve your health goals!
What It All Comes Down To…
These products WORK. I use them myself each and every day, and I share them with my friends, family, and -- most importantly -- with YOU. I don't want you compromising your health with second-rate supplements. That's why I have decided to put the power back in your hands with Essentially Whole products. You can be confident you are only getting the best of the best to enable you to heal your body naturally!
Shipping
Shipping Locations
We are able to ship to all 50 states in the US. If you live in a US Territory and we do not ship to your location, please email help@drmariza.com and we will let you know if we can add your shipping region.
Shipping Costs
* Shipping within the lower 48 states is free for all orders over $97 (after discounts are applied). Orders less than $97 will include a flat shipping rate of $9.95.
Shipping to Hawaii or Alaska is free for all orders over $127 (after discounts are applied). Orders less than $127 will include a flat shipping rate of $14.95.
Shipping Speed
All orders will ship within one business day.* You will receive automatic email updates toinform you of the status. When your package ships, you will receive a shipping confirmation email that includes your tracking number.
*In the very rare case that the item you ordered is backordered, you will be notified right away about any potential delays.
Customer Reviews
Metabolic
This's good supletments Metabolic help sugar balance and energy
02/08/2022
Anonymous

United States
Like the supplements but not the amount of pills
So far I like the supplements, but can't say I've had a breakthrough in positive results. While they are fairly easy to absorb, I don't enjoy the amount of pills required daily. I'm taking multiple supplements from Dr. Mariza, and some say to take 3 pills 2 times daily. This adds up to 20+ pills per day. This is difficult on my stomach and my pocketbook.
11/15/2021
Anonymous

United States
Metabolic Restore
I have been taking Metabolic Restore for several weeks and noticed a small but definite improvement in my internal energy. I finally reread the label and discovered I'd only been taking 1/6 of the suggested amount! Since I had noticed a positive change, I am anticipating even more noticeable improvements now that I have adjusted my daily intake.
10/09/2021
Lina T.

United States
Metabolic and Hommone balance is good supletment
My experience i started taking supletment from Dr.Mariza feel more energy, and relax calm, do more excersise then I was, recommended very woman should try it, work great so far :) Thanks so much so Dr.Mariza
09/05/2021
Anonymous

United States
Metabolic Restore - Small Improvements
The main reason I got Metabolic Restore is because type 2 diabetes runs in my family and this year has been the most stressful I have been in 14 years. My doctor was saying I had to do something to minimize the stress so I decided to try Metabolic Restore. I've been taking it 3 weeks and I have noticed some changes. I sleep a lot better at night (at least 7 hrs) and I'm having at least 2 bowel movements a day (used to be once a day). I also have eczema (which I've had all my life) and it hasn't flared up the last 2 weeks. I was expecting my period to be rough since August was a stressful month but it really wasn't as bad as I thought it would be. I don't normally have cramps but the flow wasn't as heavy as previous months where I was stressed. Thanks Dr Mariza for making this product. I will be purchasing it again.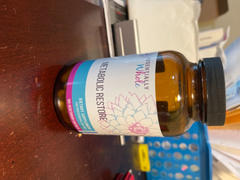 08/24/2021
Anonymous

United States
Just staring
I am just starting to use the metabolic renewal supplement. Although I am very excited to see what happens, I was a little disappointed to see that there is only a 10 day supply in the bottle since the suggestion is to use three capsules two times per day. So far I am only doing three capsules once per day, but weird love some feedback about how this could be used and for how long. I'm not sure I can afford three bottles a month if that was the intention. But I would like to learn about how to use this to help combat insulin resistance. I really enjoyed all of your hormone Health information on podcasts and website. Thanks for all you do!
Hey there! Thanks for taking the time to leave a review. The great news is that this bottle contains a 30-day supply (there are 180 capsules in the bottle, so the recommended dose at 3 capsules, 2 times per day that equals 6 capsules per day). This product can be taken for an indefinite period of time, as it is gentle and supportive for your body. We would encourage you to give it a try--Dr. Mariza and all of us really love the results we see with this supplement. You can learn more about using this supplement for insulin resistance in this blog post: https://www.drmariza.com/key-supplements-for-insulin-resistance-and-healthy-metabolism/ Hope this helps, but feel free to reach out to us with any additional questions!
07/25/2021
Anonymous

United States
Metabolic Restore
Metabolic Restore is new to me. I began taking it mid-July 2021. My system seems to take awhile for changes to show. It does seem like I have a bit more energy and less desire for sweets