Egg Free

Corn Free

Gluten Free

No Artifical Sweetners

Dairy Free

Soy Protein Free
The health of your liver determines the health of your hormones. Your liver plays a key role in all stages of hormone production, activation, and detoxification, yet most of us don't give our liver what it needs to do its job effectively.

The Liver Support Bundle is designed to support and enhance all stages of detoxification while promoting the overall health of your liver. Activated B Complete and Magnesium Restore are included to supply key nutrients your liver relies on, while the Liver Support Blend is a specially-selected combo of ingredients that will help your liver thrive!
Liver health is the gateway to abundant energy, happier hormones, fewer symptoms (including hot flashes and night sweats), and so much more. This bundle is the perfect, easy solution to deliver maximum results to your body!
Get the Liver Support Bundle and…
Support all stages of liver detoxification

Enhance the overall health of your liver so it can function effectively

Reduce liver congestion and speed up liver function to safely and completely neutralize dangerous toxins and make sure they do not build up in your body

Supply your body powerful antioxidants to support immune health and combat free radical damage in your whole body
I've been right where you are…
My hormones were threatening to derail my health, my family and my career, and I was desperate for a natural solution. Through each healing transformation I've experienced in my life, supplements have been an essential part of my protocols. Nutrition, self-care, and supplements have always gone hand-in-hand in my approach to healing your hormones and body.
And now? I've sourced the perfect supplements for your hormones and put them in one place so you can get your hormones and body on track as well.
Supplements have a special power that you can't get from other healing strategies. With concentrated, bioavailable nutrients, vitamins, minerals, and adaptogenic herbs, supplements offer a unique benefit to your body in a simple, convenient package.
Unfortunately, in my research of other supplements and brands, so much of what I found was people cutting corners and not offering the best products possible. That's why I decided to launch my own line of Essentially Whole supplements. I've worked closely with my manufacturer to be confident you are getting the best possible supplements of the highest quality to make the biggest impact on your health.
Whether your hormonal challenges have to do with stress, weight, metabolic or reproductive hormones, the supplements you'll find in the Essentially Whole store were designed to work with your body's natural processes, enhancing them for optimal performance.
Here are a few things that make Essentially Whole Supplements special:
Effective, Natural, Science-Based Solutions for Your Health
In a world filled with products touting health benefits, it can be hard to distinguish what is real and what is not. That's why I wanted to provide you with supplements that you can be confident using to fuel your and your family's bodies. Each product I offer is created with only the highest quality ingredients in forms that are easily put to use by your body. Every ingredient has been tested for effectiveness and bioavailability to ensure that you are only getting the best of the best!
3-Stage Testing that EXCEEDS Industry Standards
When I decided to embark on this journey of supplying you with the BEST supplements possible, I knew I needed to partner with a manufacturer that shared my beliefs in going above and beyond to ensure quality. You can be confident that your product has been tested…
1. Before production (to make sure the raw materials are of the highest quality)
2. During manufacturing (to make sure the product is not compromised in any way)
3. After packaging (to make sure what gets into your hands is pure and free of any contamination)
This goes above and beyond the industry standards, but I wouldn't have it any other way!
Powerful Community
When you buy grocery store supplements, you pick up your bottle, hope it is what it says it is, and go on with your life. When you partner with me through purchasing Essentially Whole supplements, you aren't left to fend for yourself. I am committed to continuing to provide you with resources and solutions to help you achieve your health goals!
What It All Comes Down To…
These products WORK. I use them myself each and every day, and I share them with my friends, family, and -- most importantly -- with YOU. I don't want you compromising your health with second-rate supplements. That's why I have decided to put the power back in your hands with Essentially Whole products. You can be confident you are only getting the best of the best to enable you to heal your body naturally!
Shipping
Shipping Locations
We are able to ship to all 50 states in the US. If you live in a US Territory and we do not ship to your location, please email help@drmariza.com and we will let you know if we can add your shipping region.
Shipping Costs
* Shipping within the lower 48 states is free for all orders over $97 (after discounts are applied). Orders less than $97 will include a flat shipping rate of $9.95.
Shipping to Hawaii or Alaska is free for all orders over $127 (after discounts are applied). Orders less than $127 will include a flat shipping rate of $14.95.
Shipping Speed
All orders will ship within one business day.* You will receive automatic email updates toinform you of the status. When your package ships, you will receive a shipping confirmation email that includes your tracking number.
*In the very rare case that the item you ordered is backordered, you will be notified right away about any potential delays.
Customer Reviews
03/20/2023
Jeanette N.

United States
Liver support Bundle
I've been using the Liver support Bundle for 3 weeks now and so far I've been feeling energized. Not as tired. I would like to add more supplements to my regime to help with my hormones and continue to keep taking the liver support bundle to see how my body changes. Thanks Dr. Mariza for this first step towards feeling amazing!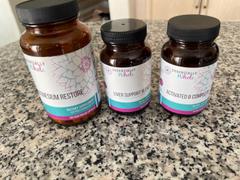 02/08/2023
Ashlie O.

United States
Energy!
Since following Dr. Mariza, I have benefited tremendously. My overall health understanding has grown. Restless sleep has diminished. And, full days worth of energy has increased! I am so grateful I took the step to invest in my health.
12/03/2022
Anonymous

United States
Loving Liver Support
I have been using Dr. Mariza's products for awhile now and they are just wonderful! They help keep all my systems running well and my hormones in check.
09/09/2022
Tiffany C.

United States
Beware of headache
The very first day I took all 3 pills and by the time it was time to take the second round the same day I had a headache. Didn't think much of it so I took them. Bout an hour later I had the worst headache I've ever had in my life. So the the next day I just took the liver support and the magnesium thinking it was the bcomplex. Same thing. So now I'm only taking the liver support blend. I think it's just too high of a dosage.
Hi Tiffany, So sorry to hear you were dealing with headaches! Since these supplements are encouraging a gentle detox, there is a possibility of some minor side effects if they are begun all together when your body is not used to them, as you noted. Most people will not have issues, but some of us are more sensitive. Fortunately, it sounds like you are doing exactly what we recommend in your case: start with a lower dosage of just one supplement. Normally it is possible to work your way up to taking all the supplements after a bit of time goes by, and by then you're feeling better too. :) We hope this helps, and thanks for taking the time to leave a review! If you have any further questions, just reach out to my customer service team at help@drmariza.com. :)
06/26/2022
Elizabeth Y.

United States
BS stability
Great! I've been focused on pairing foods in order to maintain stable blood sugars. I've noticed how this impacts my improved mood and decreased bloating.
01/01/2022
Anonymous

United States
Great Product!
I have loved using these supplements. I know that they are high quality and have no fillers or questionable quality ingredients.
11/19/2021
Anonymous

United States
Liver support bundle
I have been using these supplements for several months now and I have been feeling so much better! Love this time(&money) saving trio.
10/09/2021
Jackie B.

United States
Feeling lighter
I'm feeling healthier everyday. I know it's working . I also feel lighter.
08/08/2021
Shauna G.

United States
Auto renu Liver support
Excellent ! ...., however this product did NOT Auto Renu !! ??? Should I call to find out why ?? It's been over 2 weeks now.
04/30/2021
Anonymous

United States
Liver support bundle
I think I've been taking the supplements for about a week. I'm not sure that I've noticed a significant difference yet. But, I'm hoping to feel better and better with the weeks ahead…